What to Notice Before Buying an Electric Wheelchair?
If you are going to buy an electric wheelchair for your loved one, there are a few things to be considered before buying one. First, electric wheelchairs are also called power wheelchairs. As an experienced electric wheelchair manufacturer, Youjian has put forward the following suggestions: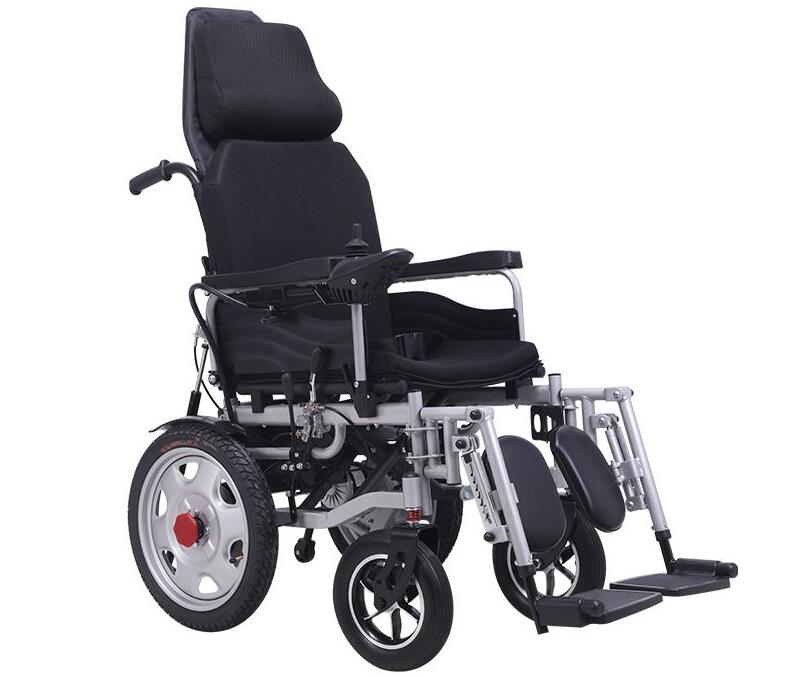 Electric Steel Tube High Backrest Wheelchair
Watch your budget.
Prices vary and how much you're able to spend may limit your choices. It will help to set a budget and stay within that budget. Make a list of priorities that you want to get out of your power wheelchair, and if the price is a limiting factor focus on your top one or two priorities.
For instance, consider whether you need all-terrain outdoor wheels (which are more expensive), or whether simple, cheaper wheels will suit you. Is this more or less important to you than having power seating? It's up to you what you want to spend your money on, so know beforehand what your goals are.
Consider the size of the user.
If the user is a child, you will need to choose a pediatric wheelchair that can accommodate growth. Most adult wheelchairs can accommodate passengers up to 300 pounds (136kg). For heavier users, look into bariatric or "heavy duty" power wheelchair options — some of which can accommodate up to 650 pounds (295 kg).
Along with weight, consider getting a wider seat width for larger users.
Investigate battery life.
There is pretty significant variation among batteries in how long they hold a charge — it's usually anywhere from 10 – 25 miles (16 – 40km). Think about how far you'll want to be able to take your chair on a single charge. Check battery life for all the different chairs you consider to find one that meets your needs.
Battery life will vary somewhat depending on the weight the chair is carrying and the terrain.
Get a model that can be modified.
Remember that your needs may change over time. Whatever type of chair you choose now, be sure that you will be able to modify the device in the future. That will allow you to keep your current chair compatible with your needs, rather than having to buy a new power wheelchair in the future.
Some models of wheelchair are built so that you can change or modify the steering mechanism or seating system, or even make it compatible to use with tracks in the house.
Be safe.
Once you have chosen your power wheelchair, it is important to go over safety and proper use. Thoroughly read through the manufacturer's guide so that you understand how to operate the device. Make sure there is a working seat belt and wear it at all times. Other safety precautions include:
● Keep your hands, arms, feet and legs within the framework of the wheelchair to decrease your chances of tipping over.
● Keep the battery fully charged so you don't get stranded.
● Turn off the power when getting in and out of the chair.
● Use caution around young children who may reach for the control unit and cause it to unexpectedly move or accelerate.
● Be cautious outdoors. Avoid going outside when visibility is poor, such as at night or during bad weather. Try to avoid busy streets and intersections and do not attempt to maneuver over a curb unless the chair is designed to do so. If using the chair on a path or trail, make sure the earth is firm, fairly smooth, and dry.
For people who want to buy an electric wheelchair for their loved one or want to be an electric wheelchair distributor, it's better to work with an electric wheelchair manufacturer or electric wheelchair factory. Youjian can be taken into consideration. Youjian is dedicated in designing, manufacturing and exporting high quality electric wheelchairs to the world. Choose Youjian and what you choose is good quality and affordable prices.
If you are going to bulk purchase power wheelchairs, Youjian is the right brand. To make money, you need to control your budget and it's better to buy wheelchairs from the factory at a low price and then you can sell them at a higher price. You can place a trial order first to see the quality of Youjian power wheelchairs, and we will offer high quality wheelchairs with factory low prices. Contact us anytime for more information!